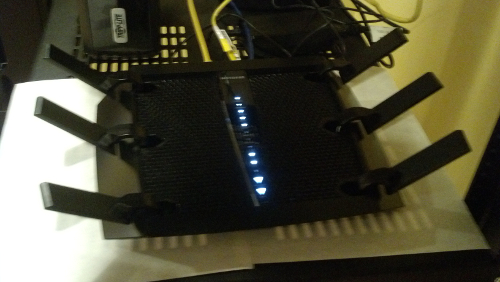 This is my first ever hardware review, but while I was going through the process of the move, I bought a new router because I needed better signal coverage, VPN capabilities, and other features. After a lengthy exercise in price and feature comparison, I settled on the Netgear Nighthawk AC1900 R8000 router. This router runs right around $300, whether you get it at NewEgg or at Best Buy (I'm assuming that means that they have a suggested retail price and everyone is sticking to it for now).

First, allow me to describe the appearance of the router. Normally, I wouldn't do this, but this thing is a beauty. With six antennas and coming in a little over the size of some people's laptops (not mine, but those of people who like smaller laptops), the thing looks like an enormous, black bug on its back, and lights up with clean, white LEDs when in operation (if you are doing everything correctly, of course). The underside of the chassis does appear to have holes for some screws, so I'm interested to see whether I can find a kit to mount it onto a wall, as I suspect leaving it on my server rack is probably killing range and signal strength a bit.
The R8000 (I'm going to call it this from here forward, to save me some typing in a non-ergonomic setup) can support three wireless networks with 802.11 b/g/n and 802.11 a/c/ac. I opted to use a single wireless name for the two 5GHz radios, largely because I couldn't come up with a reasonable use for the third network (there are only three people in the house total, and only two who use the internet without supervision). Setup of the wireless was dead simple (as netgear routers tend to be). I was even able to quickly set up the port forwarding rules I had used on my old router and configure the box for DDNS without significant issues.
The router also boasts Readyshare capability, which I have not yet used. I have a portable hard drive around here somewhere, but haven't found it yet (we only had a total of about 46 hours to move from the old house to the new one 20 minutes away, so lots of stuff just got crammed into poorly labeled boxes). It also supports Parental Controls that I haven't yet deployed, as my daughter isn't typically on the computer yet. It'll be interesting to see if this meets our needs or not.
Honestly, I really like this router. There have only been a few minor hiccups while getting things set up. Perhaps the most difficult was the setup of the VPN. After a few days effort, I was able to get it working (and it works like a charm too), but there was a little bit of pain and suffering to do so. First of all, like any VPN, you have to generally go somewhere else to test it. McDonalds was the closest place to do so, so I've had several late afternoon dollar value meals as I've been trying to get this to work. Second, the software uses OpenVPN, which, while it largely works, does seem to have some rough edges. In particular, I frequently had to reboot my machine while trying to get it to work, as the software would sometimes simply just get stupid and be unable to do anything. I couldn't even get the process to terminate, except by shutting down the machine. Further, when one downloads the client files, there is nothing to indicate the version of OpenVPN that actually works with the software. I spent two days with the latest version, attempting to get a connection to work, to no avail. It would connect to the router, but no packets were going across the connection, it wasn't getting an IP address, and I could not see anything on my internal network. While I admire the fact that Netgear is working with the open source community on this, the experience could be much improved by simply telling the users that the last known good OpenVPN client for the router is of a particular version. That said, if you follow the directions, and manage to find the correct version of OpenVPN, it's stupid-easy to get working. FYI, the working version as of this post is 2.3.2.
One other minor quibble with the device is the issue of port assignments. It gave me what appeared to be a random port number to use for the VPN, which was blocked in several places that I tried it. It would be better if they used a more well-known port. This was easy to change, but it wasn't easy to figure out what to change it to.
I would highly recommend this router if you are in the process of setting up a serious software development environment in your house and want VPN access. Sure, it's a beast of a router, but it has been a very good purchase. Also, if you do have to contact Netgear customer support, you would do better with the live chat – those folks are far better than the email-based chat for quickly getting to a solution (the email support folks wanted a copy of my receipt and my serial number to be able to answer simple questions, which I find a bit lame for a high-end consumer product instead of a $20 router). That said, it was an excellent purchase that I'm quite happy to have made (come on Netgear, send me some swag).